The tale of a 16-year-old killer is spreading around the world after some of the planet's most famous women joined a campaign to free her.
Cyntoia Brown was sentenced to life in prison in 2004 for shooting dead Johnny Allen, a 43-year-old Nashville estate agent who picked her up for sex.
The teenager who went home with Mr Allen that night had been repeatedly raped and beaten. She was on the streets by order of her boyfriend, described as a violent, drug-addled pimp named "Kutthroat", who she said verbally abused her and made her strip at gunpoint. He had demanded that she make him some money.
The client who would become Cyntoia's victim showed her his gun collection, telling her he was a former Army sharpshooter. It made her nervous, she noted later.
Cyntoia ate dinner with him, watched some TV, and got into his bed. "He grabbed me in-between my legs – he just grabbed it real hard," she told the trial court. "I'm thinking he's going to hit me or do something like it…"
Then Allen turned over and reached to the side of the bed. Cyntoia said she panicked, thinking he was reaching for a gun. Convinced she was about to die, she said, she shot him in the head with a .40-calibre handgun that Kutthroat had given her.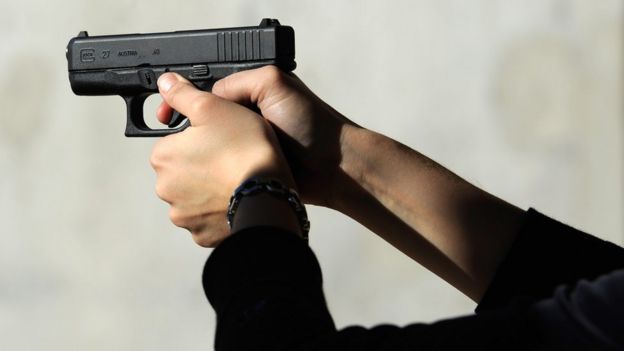 Cyntoia was tried as an adult, and pleaded self-defence. Prosecutors argued that she killed Allen to rob him, because she fled with his wallet and guns. The jury found her guilty of first-degree premeditated murder, first-degree felony murder, and aggravated robbery.
Now in her late 20s, she will first be eligible for parole at the age of 67.
'We have to do better!'
How does a girl's life get wrecked to this degree before she's even old enough to vote? And when a childhood has been blighted by horrendous abuse, what bearing should that have when the victim commits a grievous, irreversible crime?
These are the debates playing out on social media, since reality star Kim Kardashian West, singer Rihanna and supermodel Cara Delevigne all shared emotional posts under the hashtag #FreeCyntoiaBrown.
Twitter isn't ideal for conveying the complexity of this case. But that didn't stop Kardashian West's pro-Cyntoia summary garnering 379,000 likes.
"The system has failed," she tweeted. "It's heart-breaking to see a young girl sex trafficked then when she has the courage to fight back is jailed for life! We have to do better & do what's right. I've called my attorneys yesterday to see what can be done to fix this. #FreeCyntoiaBrown."