After suffering a protracted illness, Winnie Mandela, former wife of Nelson Mandela, South African hero, died on Monday, at the age of 81. Just like her late husband – who died five years ago, she was a formidable force in the anti-apartheid campaign and had her own share of imprisonments and other forms of intimidation.
While Mandela was in prison, the deceased was on the forefront of the campaign for his release and also for the right of black South Africans. An "international symbol" of resistance to apartheid, she was seen as a rallying point for poor and oppressed South Africans who demanded their freedom.
HARASSED, IMPRISONED AND BANISHED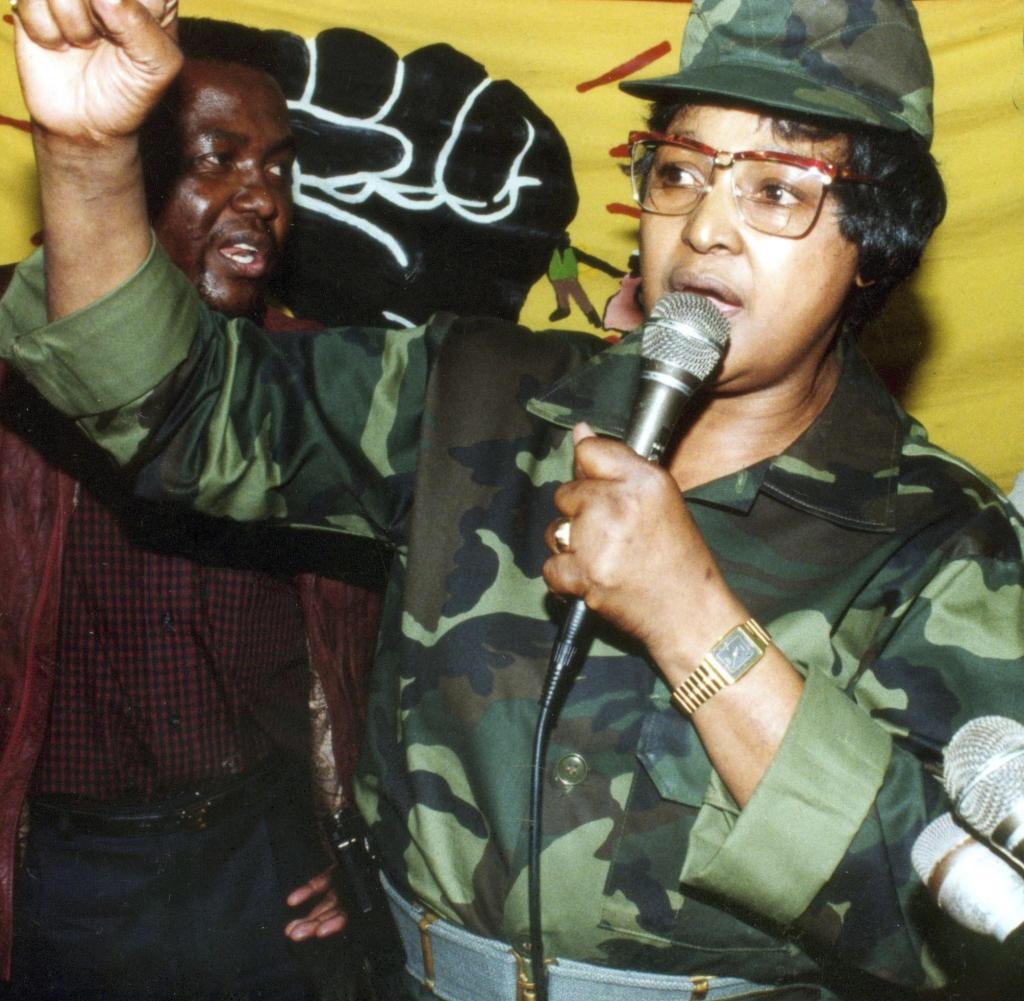 Winnie after speaking to the press outside Nelson Mandela House
From the time of her marriage to Mandela, Winnie experienced a prolonged period of harassment, imprisonment and torture at the hands of the apartheid security police. Her travails started in 1958 when she was detained for her participation in an anti-pass campaign. Her resistance to harassment and championing of the anti-apartheid cause led to her being jailed for almost 18 months, in 1969. She later wrote of her experience in prison in a book – '491 Days: Prisoner number 1323/69'.
"Solitary confinement is worse than hard labour," she said in the book, "when you stretch your hands you touch the walls, you are reduced to a nobody."
In 1973, she was sentenced to three years imprisonment for having lunch with her children in the presence of a banned person. The sentence was later reduced on appeal to six months. In 1976, she was detained without trial for four months after the June 16 Soweto uprising, and was also banished from Soweto and sent to a remote rural area. It was during this period that she earned the honour as mother of the "new South Africa", due to her legacy as an anti-apartheid heroine.
While she was banished from Soweto, her house was burnt down by persons suspected to be South African security forces. By the mid-1980s, however, she was back in Soweto – and at the heart of the anti-apartheid struggle.
Winnie Mandela's life:
1936: Born in Transkei
1958: Got married to Nelson Mandela
1969: Jailed for anti-apartheid activities
1976: Banished by apartheid authorities
1991: Convicted of kidnapping
1996: Parted ways with Nelson Mandela
2003: Convicted of fraud
CONTEMPLATED SUICIDE
During her 491-day stay in prison, she became "extremely ill" largely because of the poor diet "which often consisted of porridge with maggots in it."
She was also said to have suffered various ailments – while in confinement – such as chest pains, palpitations, body spasms, haemorrhaging and chronic weight loss, and at some point was reportedly taking 12 different drugs daily
After getting admitted on several occasions, she reportedly decided on a "way out" of her travails: "I decided I would commit suicide but would do so gradually so that I should die of natural causes to spare Nelson and the children the pains of knowing I had taken my life," she was quoted to have said in her book.
"I thought there would be no better method of focusing the world attention on the terror of the Terrorism Act than this … I was so happy at times I fell asleep and hoped I would not get up the following day even if I had not gone as far as the hospital, I did not care anymore."
'IN 13 YEARS, SHE LIVED FOR ONLY 10 MONTHS WITHOUT A BANNING ORDER'
Edward Kennedy, a US senator, visits Winnie in Brandfort, South Africa
In 1962, just four years after she married Nelson, she was banned and restricted to Johannesburg for two years, the same period in which Nelson was sentenced to five years in prison for "leaving the country illegally and organising a mass stay-away."
The banning continued for years: in 1965, she was banned for five years and restricted to Orlando in Soweto. In 1967, she was sentenced to 12 months in prison for "failing to give her name and address to the security police." In 1971, she was sentenced to 12 months in prison for "communicating with a banned person in her house". The conviction was later set aside on appeal. In 1977, her banning order was renewed for five years.
Brand South Africa reports that in 13 years, she lived for only 10 months without a banning order.
HER BIGGEST SCANDAL
When Mandela was released after spending 27 years in prison, he forgave those who were behind his travails. This resonated across the world, placing Mandela as a man with a large heart but about one year later he divorced the woman who stood by him during his darkest hours.
Trouble began after a letter Winnie wrote to Dali Mpofu, her lover, was leaked to the press. Mpofu, who was half her age was one of the lawyers who defended her. In the letter, she disclosed how Mandela, whom she calls by his family nickname 'Tata', refused to speak to her for five months because of the affair with Mpofu.
"The only time you have time to talk to me is about women as you are doing right now. You are supposed to care so much for me that the fact that I haven't been speaking to Tata for five months now over you is no longer your concern," she wrote.
"I keep telling you the situation is deteriorating at home, you are not bothered because you are satisfying yourself every night with a woman… I won't be your bloody fool, Dali."
"You think you can just wish away certain things Dali, not with me. I tell you I'm in trouble with the Simmonds Street a/c which reflects over R160,000 drawn over a period for you. You don't even bother to check how we can overcome this. I tell you (ANC lawyer Ismael) Ayob has been sent by Tata to get an accountant to investigate my account. I tell you Ntombi (a woman in the ANC welfare department) is gossiping about the cheques we used to ask her to cash in the name of the department and how I gave you all that money."
MADE HER HUSBAND 'THE LONELIEST MAN' 
Mandela announced his separation with Winnie in 1992, not long after he left prison, although they were pronounced divorced by court in 1996.
During one of the court sittings where their divorce case was being held, Mandela said it was Winnie's  "brazen conduct" which convinced him to end their 38-year marriage.
"Ever since I came back from prison, not once has the defendant ever entered our bedroom while I was awake," Mandela had told the court.
"The bedroom is where a man and woman discuss the most intimate details. There were so many things I wanted to discuss with her, but she is the type of person who fears confrontation.
"I was the loneliest man during the period I stayed with her."
DAINTED IMAGE
In 1991' the deceased was convicted of kidnapping and being an accessory to assault of Stompie Seipei' a 14-year-old activist who was killed by a member of her bodyguards.
Although she denied involvement in the murder when she appeared before Archbishop Desmond Tutu at the Truth and Reconciliation Commission hearings, she was convicted and handed six-year jail sentence which was reduced to a fine and a two-year suspended sentence on appeal.
In 2003, she suffered another blow when a court convicted her of fraud and theft in connection with a bank loan scandal.
The magistrate had said she was fraudulently acquiring loans for people who were desperately short of money, but he said that as a prominent public figure she should have known better.
However, an appeal court later overturned the conviction for theft, but upheld the one for fraud. She was handed a three-year-and-six-month suspended sentence.
Born in Bizana in the Transkei in 1936, Winnie met Mandela in 1957 and later got married to him in 1958, at the age of 22 – 16 years younger than he was then.