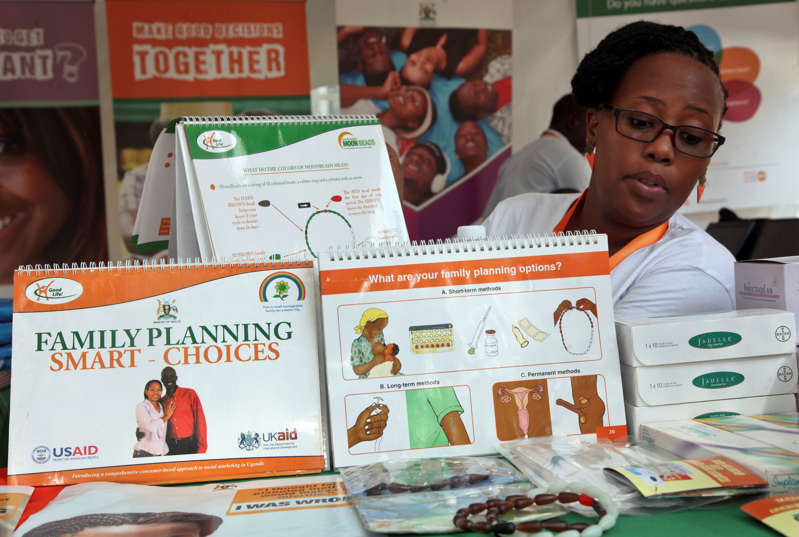 Uganda has, this afternoon, been recognised for its outstanding leadership in advancing the agenda of family planning. This agenda includes ensuring that demand for family planning is created, Ugandans have access to quality services and that commodities are available in the communities.
Dr Jane Ruth Achieng, the minister of health, received the award on behalf of Uganda at the 2018 Excellence in Leadership Awards during the closing ceremony of the International Conference on Family Planning (ICFP).

"As a country, we have come a long way in advancing family planning since the 2012 Family Planning Summit in London (United Kingdom) where our president made commitments. This award would not have been possible without the excellent leadership of our president and the help our partners such as, civil society organisations (CSOs), faith based organisations (FBOs), and others. I thank all Ugandans for ensuring that we reach this stage but I would also like to remind them that there is still a lot that needs to be done," Dr Achieng said.

Uganda hosted the first Family Planning Conference in 2009 and according to the Family Planning 2020 Progress Report, released on November 12, 2018, the demand for family planning in the country is growing. Since 2012, Uganda has added over 800,000 modern contraceptive new users.

It was a double win for Uganda when Maureen Andinda, the monitoring, evaluation and learning manager of Reach A Hand Uganda, made the finalist list of the 2018 Quality Innovation Challenge. The Challenge is hosted by the David and Lucile Packard Foundation with a goal of ensuring everyone's right to quality sexual and reproductive health information and services.

As a finalist, Andinda will apply for one of the five grants of USD 100,000 (Shs 373.6million) each.

Invest in family planning

During the conference, young family planning advocates from around the world called on global leaders to invest in quality, youth-friendly sexual and reproductive health services. Through monologues and creative storytelling, nearly 30 ICFP Youth Leaders and family planning experts illustrated the barriers young people face while trying to prevent unintended pregnancies, including misinformation, stigma and provider bias, stock-outs and high costs.

Dr Achieng argues that even if the age of consent is 18 years, the ministry is cognizant of the fact that there are child marriages and teenage pregnancies.

"If we recognise that 16 year olds are sexually active and are having babies, we cannot deny them family planning products. But we really must emphasise education so that they know the dangers of getting into sexual activity and getting pregnant at an early age. This way whatever they do will be done out of informed choice."

According to new data released on November 14, 2018 by the Guttmacher Institute, 36 million young women aged 15–19 in developing regions are sexually active and want to avoid pregnancy, but most are not using modern contraceptives. The report notes that half of the 9.6 million pregnancies among this group each year are unintended, and about half of these unintended pregnancies end in unsafe abortion.

The challenges Uganda must overcome

At the 2016 Family Planning Summit in London, Uganda committed to domestic funding of family planning to a tune of USD5m. However, so far, according to the FP2020 Progress Report, only USD2.5m has been allocated and this was spent on procuring Mama Kits.

In the last two financial years, 2016/2017 and 2017/2018, government never procured family planning commodities. This has led to persistent stock outs of family planning commodities. According to the ministry of health National Stock Status Report of family planning commodities, by April 2018 National Medical Stores (NMS) was stocked out, except for latex condoms.

However, Dr Achieng maintains that there are no stock outs in the country. "We do not have commodity stock outs. It is you people (media) who think about it and you talk about it. Nothing like that exists. All the money that government pledged (towards domestic funding for family planning), government has given."

In addition to reducing newborn and maternal deaths and school dropouts due to early pregnancy, experts estimate that achieving universal access to sexual and reproductive health services by 2030 and eliminating unmet need for modern contraception by 2040 could realise health and economic benefits worth $120 for each dollar spent.