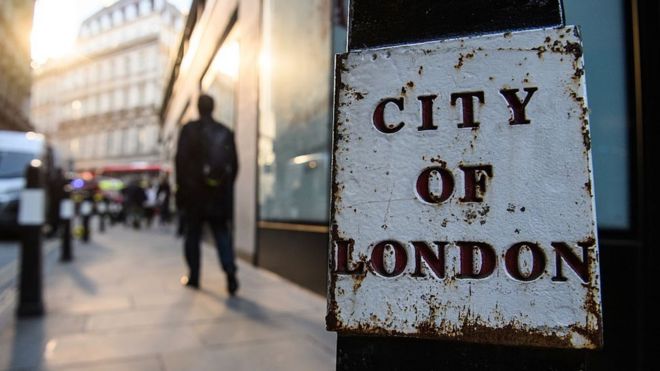 The Bank of England is to unveil plans allowing European banks to operate in the UK as normal post-Brexit.
The BBC has learned that banks offering wholesale finance – money and services provided to businesses and each other – would operate under existing rules.
It means EU banks operating through branches can continue without creating subsidiaries – an expensive process.
Branches offer an easy way for banks to move money around their international operations.
But they present the risk that, in the event of a financial crisis, funds are quickly repatriated to the foreign bank's headquarters – leaving customers of the UK branch out of pocket.
Subsidiaries are forced to hold their own shock-absorbing capital which can't cut and run – they essentially become UK companies.
Changing from a branch to a subsidiary could cost billions for a bank like Deutsche Bank, for example, which employs 9,000 people in the UK.
Currently, banks based anywhere in the EU can sell services to anywhere else in the EU thanks to an instrument known as a financial services passport.
On Monday, EU chief negotiator Michel Barnier was talking tough on UK-based financial services access to the European single market after Brexit.
"There is no place (for financial services). There is not a single trade agreement that is open to financial services. It doesn't exist. In leaving the single market, they lose the financial services passport," he said.
Which begs the question – if they are playing hard ball – why are we being so nice in rolling out the red carpet?
Miles Celic, head of the lobbying group TheCityUK, said offering continuity to EU banks was an act of goodwill, but it was also one of enlightened self interest.
"Encouraging EU banks to continue to operate in the UK will help preserve financial stability for the UK and the EU and will help defend London's position as an open global financial centre," he said.
Forcing EU bank branches in the UK to become separately capitalised subsidiaries may well have encouraged European banks to pull out of London – gradually eroding its pre-eminence as a financial centre.
But on the other hand, London acts as the wholesale bank to the EU and access to its expertise and capital is highly prized. Some may see this decision as surrendering a trump card that should have been held back for the tough negotiations ahead.
So, why are we allowing the EU access to this valuable resource while the EU threatens to create barriers the other way?
Government sources said there are three reasons.
First, there are the jobs. Tens of thousands of highly paid people work in the London branches of big EU banks. That also creates knock on jobs in other professions like accountancy and law.
Second, those people pay a lot of tax to the exchequer.
No strings attached
And third, there is another important economic point. Services sold by the UK branch of a French or German bank to a third country like the US, for example, count as UK exports – something the government is keen to maximise.
In a speech back in October, Sam Woods, the head of the Prudential Regulation Authority (the bit of the Bank of England that supervises banks) said the reason the European financial markets work so well is not just due to the "passport" that Michel Barnier insists will be revoked.
He said he hoped "for a strong, co-operative relationship in which wholesale banks can continue to operate across the UK and EU27 in branches… We have embedded a sophisticated framework of supervisory co-operation… There is every reason to think these will continue into the future"
This sentiment echoes what a senior banker told me six months ago – "if the regulators were in charge, and not the politicians, this would all be sorted out in a fortnight."
They are not in charge. But I understand the bank has the blessing of the government in offering this "no new post-Brexit strings attached" access to the world's largest financial centre.