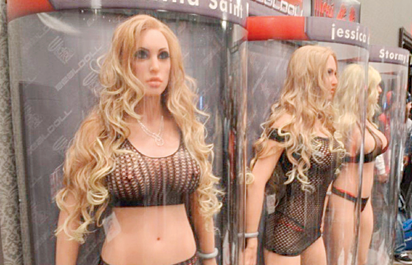 The result is that sexually "functioning" robots are the rave of the moment and are now available to buy and try anywhere in the world—including here in Nigeria. They are becoming big business and manufacturers are now claiming their products are so realistic people are actually marrying them.
The robots are also becoming more sophisticated – and life-like – by the day and a growing number of men are taking the chance to craft their dream woman. Just like a Nigerian twitter user set the social media on fire when he tweeted that he had acquired a s-x doll that shares a striking resemblance with Nollywood diva, Mercy Johnson, who he claims he admired and simply wanted to idolize.
What are s-x robots?
S-x robots are essentially realistic dolls that have sophisticated movements that closely mimic humans so that they can carry out any sexual activity. These creations are expected to be hyper-realistic with features such as built-in heaters to create the feeling of body warmth. Makers claim they can be "seduced" as they come complete with sensors in their faces, hands, breasts and "the female genitals down below" which make them able to react to touch.
Although s-x toys like dildos, vibrators, dolls and more, have existed for centuries, none attempted to rival human-to-human intimate relationship like these s-x robots are created to. Unlike s-x toys and dolls, their inanimate counterparts, s-x robots blend life-like silicone with animatronics to simulate movement, and embed their mechanical brains with artificial intelligence to feign conscious behaviour. They seek to emulate a real-life partner that is capable of responding and adapting to its bedmate.
So, as these sex robots continue to gain acceptance and patronage without even being shrouded in secrecy by enthusiasts who have gone on to own one, it becomes impossible to turn a blind eye to the psychology behind a human craving sexual pleasure from a robot when there isn't a scarcity of humans.
Normal or abnormal?
"Actually, this is very normal, especially when you consider that men and women have been using all manner of sexual aids to improve and supplement the s-x they get for a long time. Women have been using vibrators to pleasure themselves for decades now and men have been using both handheld masturbators and blow up dolls to do the same. This is not new. The culture of sexual gratification through sex toys has been there for long. So the advent of these s-x robots is only an improvement on the toys that we have been using already. A s-x robot is just another toy but with artificial intelligence capability," Uche Edochie, Managing Director, Zee Virtual Media, an organisation that specialises in resolving s-x related problems, told Woman's Own.
Social problem
But another respondent, who spoke on condition of anonymity, disagreed with Edochie's perception of human-robot sexual relationship. Mike, as he prefers to be identified, declared that a normal man would not sleep with a doll just like a normal man would not sleep with a fellow man; same goes for a normal woman.
He said: "The point I am making is that there is a social problem the dolls are solving and that is why manufacturers are making money from them. And that problem is the fact that men sleep with men and women sleep with women instead of the opposite sex. They never grew up to be homosexuals or lesbians; it's the society that created that problem in them where they had negative experiences with the opposite sex that should have been a normal engagement. They now try to defend themselves, build a wall to isolate themselves and create their own world. That is what is happening with these sex robots since they are not social elements. Thus, she (the robot) answers to the beck and call of the man. It's like using a  prostitute out there, but this one is exclusive to you," Mike explained.
He added: "It's another form of people going into themselves; it is not real. I don't know how deep this problem can get, but I tell you, it is already deep. The fellow engaging in it is also anti-social and you need to be social in order to have engagement with a woman or man. But this fellow has been shut down in that form of engagement, so now he can do everything he could have done outside with himself."
However, beyond the dolls' potential to appeal to certain men, Edochie sees in them the potential to fulfil men's penchant for wielding control.
'In control'
Edochie said: "My opinion is that sex robots represent something that humans have always craved, but never could get from other humans such as total control, submission, fidelity, unconditional loyalty, unconditional service, endless sexual pleasure and ease of relation. Also, robots have the added advantage of not being able to get pregnant or contract sexually transmitted diseases especially when being used by one person.
"These robots don't argue with you. They don't nag and they are totally dependent on you. They are there to serve you and, unlike humans, they don't say no when you need them for sex. These qualities are understandably appealing to both men and women. It was only a matter of time before man created robots that can be everything they wish they had from humans."
True to Edochie's point-of-view, Mayorkun Dave, a social entrepreneur, said one advantage the dolls will have over women is that they won't make unnecessary demands.
He words: "Today, a woman will say buy me iPhone 8. The next minute you will hear 'I am not in the mood if you will not buy me or give me this'. You also go out with some pretty-looking girls and find out that their skulls are empty even in spite of the expensive hairdo. These sex dolls can discuss intelligently with men more than most girls can ever do and these are reasons they will sell easily."
Should sex robots be banned?
In opposition to calls for a ban on sex robots, Emeka, a veteran journalist, said it makes no sense to place a ban on sex robots.
According to him, "It's a product; how can they ban it? Because they banned homosexuality in Nigeria? Nigeria was being culturally rigid. What they would've done was to put a ban on same-sex marriage; not the relationship. Things are more than deep already. It would be worse for example for the introvert that has to choose to stay with a sex doll. Is it the production, marketing or usage they want to ban? If it is the usage of it, then they will also need to ban condoms. Unless you want to classify it as a product that is harmful to the health by taking it to NAFDAC for a test.
"The doll is made of  latex. If NAFDAC or anybody can prove that latex is dangerous to health, then they would have to ban it along with condoms. Otherwise, there is no basis for a ban. The problem we have is because the doll is expensive; if not, a lot of people would have purchased them. A person using a sex doll would not risk any form of disease and enlargement of family. I won't look twice at a sex robot but I won't lose respect for a person who purchases it," he said.