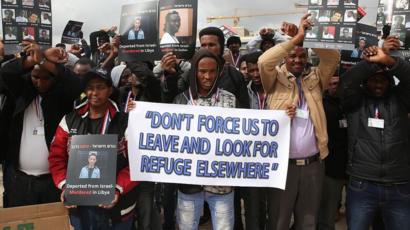 Israel's supreme court has suspended a controversial government plan to deport tens of thousands of African migrants who entered the country illegally.
It gave the state until 26 March to provide more information on the plan.
In January, the migrants – mostly from Eritrea and Sudan – were offered $3,500 (£2,510) and a plane ticket to leave Israel voluntarily by the end of March.
Otherwise, they faced detention and subsequent expulsion. The UN refugee agency criticised the plan.
The Israeli court issued its ruling on Thursday, following a legal challenge by a group of migrants from Eritrea and Sudan.
The government now cannot deport African migrants until the court receives additional information.
Israeli authorities say there are currently more than 40,000 African migrants in Israel, describing them as "infiltrators".
Most of them entered from Egypt several years ago, before a new fence was built along the desert border. This has almost ended illegal crossings.
Only single young men are affected by the government plan.
It exempts children, women, parents of dependent minors and victims of slavery and human trafficking.
The authorities have said the migrants' return will be humane and "voluntary".