French couturier dressed Audrey Hepburn and Jackie Kennedy
Hubert de Givenchy, the aristocratic French fashion designer whose understated style represented a golden age of elegance, has died aged 91.
Givenchy dressed Audrey Hepburn and Jackie Kennedy and is famous for his take on the "little black dress". He died on Saturday at the Renaissance chateau near Paris that he shared with his partner and fellow designer, Philippe Venet.
At 6ft 6in tall, Givenchy was a giant of haute couture in every sense. Not only did he physically tower over his peers but his designs were considered by many to be way over the heads of his rivals in their elegance and sophistication.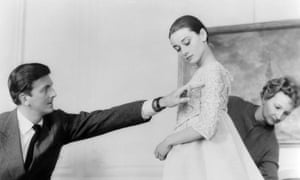 He created on- and off-screen wardrobes for Hepburn for films including Breakfast at Tiffany's and Funny Face. His enduring muse and client, Hepburn inspired Givenchy's first perfume, L'Interdit, and is credited with the designer's subsequent success and popularity in the US.
"Givenchy's clothes are the only ones in which I feel myself. He is more than a designer, he is a creator of personality," Hepburn said.
Givenchy, who learned his trade from another fashion master, Cristóbal Balenciaga, produced restrained designs of what admirers called an "extreme elegance" that became his trademark. His creations were eagerly awaited and sought out by the titled and wealthy in the 1950s and 60s, including Princess Grace of Monaco and Wallis Simpson, the Duchess of Windsor.
Madame Figaro magazine described his clothes as being made with an almost "surgical precision … not too much, not too little".
Hubert James Marcel Taffin de Givenchy, to give his full name, was born in 1927 in Beauvais, north of Paris, to an old aristocratic Protestant family. His father died when he was aged two.
The young Givenchy was fascinated by his grandfather's collection of cloths and clothes from around the world, treasures he was only allowed to view if he did well at school. Developing an interest in fashion, he became obsessed with the idea of meeting the haute couturier he admired above all, Balenciaga.
Family legend has it that after running away from home aged 10 in a failed attempt to track down his idol and show him his own designs, Givenchy persuaded his family to allow him to abandon their idea for him to become a lawyer and let him enter the prestigious École des Beaux-Arts in Paris in 1945 at the age of 17.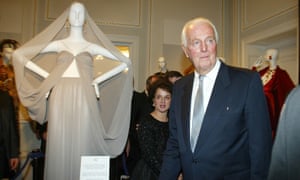 Balenciaga was my religion, and because I am a believer, for me there is Balenciaga and the Lord," he said later.
Young, elegant, impeccably turned out and well-educated, Givenchy soon found work in the fashion houses that had sprung up in the chaos and excitement of postwar Paris, meeting Christian Dior and Pierre Balmain, both older and on their way to becoming established fashion figures.
In 1947, while still studying, he began working at Elsa Schiaparelli's fashion house, becoming the artistic director of its boutique on the chic Place Vendôme.
He opened his own atelier in 1952 and his first collection, featuring elegant blouses and light skirts in simple materials, was heavily influenced by the structured, architectural style of Balenciaga. Like his "master", Givenchy believed less was more when it came to fashion design, preferring the simple but perfect stylish cut to the decorated or ostentatious. In the summer of 1953, he met Hepburn and loaned her several outfits for her film Sabrina. It was the start of a long, faithful collaboration and a deep friendship. Later that year, in New York, Givenchy finally met Balenciaga.
Givenchy liked to call himself the "eternal apprentice", forever seeking new inspiration and ideas. After a retrospective catwalk show before his retirement in 1995, he told friends: "I've stopped making frocks, but not making discoveries. Life is like a book: one has to know when to turn the page."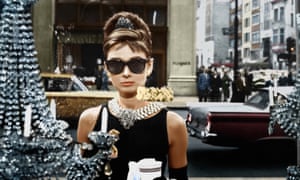 The Givenchy label was sold to the LVMH luxury group in 1988 but Givenchy remained head of creative design for seven years. A succession of well-known successors followed: John Galliano, Alexander McQueen, Julien Macdonald, Riccardo Tisci.
In 2017, when the British designer Clare Waight Keller became the label's head designer, one of her first requests was to meet its founder. Waight Keller wrote on Instagram on Monday that she was "deeply saddened by the loss of a great man and artist I have had the honour to meet".
At the opening of an exhibition in his honour at the Museum for Lace and Fashion in Calais last year, Givenchy said: "I am happy because I did the job I dreamed of as a child."
However, he seemed disenchanted with modern haute couture. "Today, I find there's a kind of anything goes. It seems to me that fashion has become something else and I cannot say I'm enthusiastic. There's fashion and there are fashions," he said.
A statement from the Givenchy fashion house also paid homage to its founder, describing him as "an unrivalled personality in the world of French haute couture and a symbol of Parisian elegance for more than half a century".
It added: "Today his approach to fashion and his influence still continue … his work remains as relevant today as it has always been."