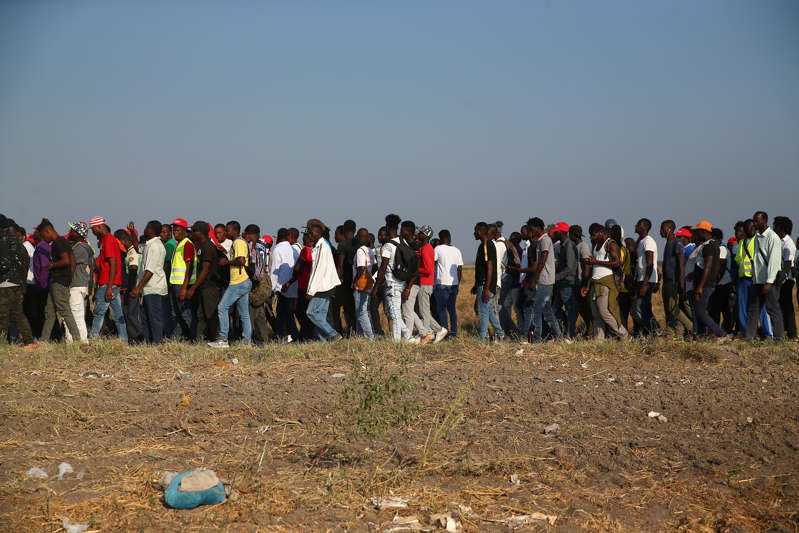 © REUTERS/Alessandro Bianchi
Italy's African Labourers slammed into an oncoming truck and somersaulted across the tarmac on August 6, killing 12 of the men packed inside. Smears of blood and oil mark the spot on the road where a van full of migrant farm labourers crashed.
Just 48 hours earlier, a near identical crash on a neighbouring road killed four other African workers, as they too returned home from a gruelling day harvesting tomatoes in the sun-roasted corner of southern Italy.

The twin tragedies, so close together and with such a high death toll, have brought into focus the dire working and living conditions imposed on thousands of migrant farmhands whose cut-price labour allows Italy to be one of the biggest fruit and vegetable exporters in Europe.

Ludovico Vaccaro, the Magistrate investigating the August 6, deaths, says rampant exploitation of foreign labourers has gone largely unchecked for years.

"They should rebel, but they are so poor they have to accept the unacceptable,'' he told Reuters.

The multiple deaths have come at a time of rising anti-immigration sentiment in Italy, with the newly installed government, moving to halt the arrival of migrants to the country and promising mass deportations for those already here.

Many of those toiling in the fields of Italy's Puglia region have been here for years, no closer to integrating into local society than the day they arrived by boat from Libya.

"I arrived in Italy on Aug. 26, 2013.

"I haven't created any problem, I don't have a criminal record and I didn't come here for fun.

"I just want to work,'' said Sutay Darboe, 42, from Senegal.

"Do Italians have any idea how we are treated?

"Do they even care?'' he said, taking a precious day off work to travel around various hospital morgues looking for the body of a relative of his, who died in the Aug. 6 crash.

Darboe, tall and thin, wearing pink-rimmed glasses, was a distant cousin of Alasanna Darboe, a 28-year-old Gambian.

They had worked together in the fields to make money to send home.

African labourers themselves see little chance that their lot will improve in a country where integration has proved notoriously difficult, even for those whose asylum requests are accepted and received work papers.