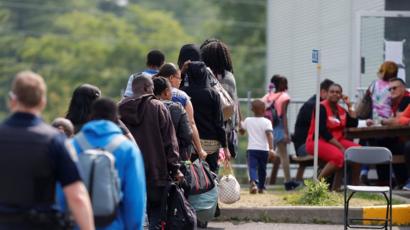 Reuters Asylum seekers wait to be processed at the Quebec-New York crossingCanadian immigration officials are working with US counterparts in Nigeria to stem the number of migrants crossing illegally into Canada.
Nigerian asylum seekers have been crossing into Canada at its southern border with the US in growing numbers.
Many were in the US with American visas before walking into Canada.
In 2017, more than 20,500 migrants crossed illegally into Canada at the US border to seek asylum – about 40% of total claims.
In the first three months of this year, over half the 5,052 asylum claims by those who crossed the border were Nigerian nationals, and most had valid US visas.
Federal Transportation Minister Marc Garneau said on Monday about 90% of all "irregular" border crossers do not meet the criteria for refugee status and will eventually be deported.
Avoiding an official border checkpoint lets migrants circumvent the Safe Third Country Agreement, an accord between the US and Canada that forces people to claim asylum in their first country of arrival.
The policy is meant to better manage refugee claims and to avoid "asylum shopping" between countries, but is also among the reasons asylum seekers are avoiding official border points.
Three Canadian immigration officials are now in Lagos working with American authorities to combat abuse of US travel documents.
Canada says it has already seen an increase in US travel visa denials for Nigerians citizens it believes want the document solely for the purpose of coming to Canada.
Federal Immigration Minister Ahmed Hussen is also travelling to Nigeria this month to meet with government officials there.
Nigeria has struggled to contain Islamist militant group Boko Haram, which has waged a campaign of violence since 2009 that has displaced over two million people. LGBT Nigerians also face possible persecution for their sexuality.
Canada has been trying to reduce the numbers of migrants seeking asylum outside of official border checkpoints.
Prime Minister Justin Trudeau's government has also been outspoken about Canada being open to refugees and immigration, though officials have tempered their message in recent months.
The country is awaiting a possible influx of migrants now the weather is warmer.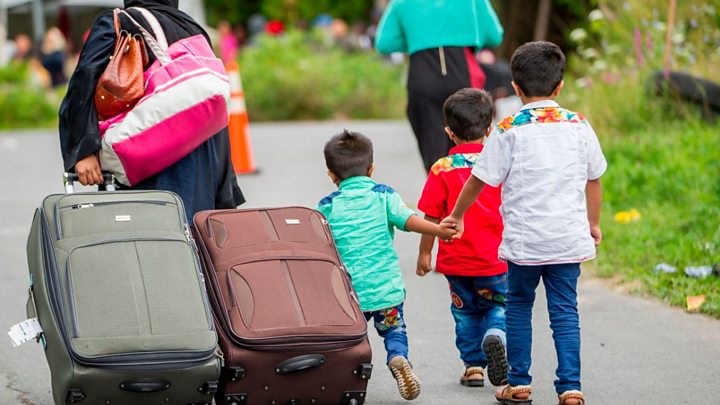 Hundreds of migrants are illegally crossing the US border into Canada each dayThe federal government is building extra physical facilities at the popular crossing into the province of Quebec at the end of a road in New York state, where the vast majority of migrants enter Canada.
The number of asylum applications received by Canada in 2017 is the highest since the country's Immigration and Refugee Board was created in 1989, according to Pew Research.
This has strained government resources, especially in Quebec.
Those facilities will be able to handle about 500 migrants at a time for short-term accommodations.
According to Canadian government figures, last year most asylum seekers were from Haiti (8,286) followed by those from Nigeria (5,575).
Government officials reached out directly to the Haitian community in the US in an effort to dispel myths being circulated on social media about the ease of getting Canadian residency.
Ottawa has earmarked C$173.2m ($135m; £99.5m) to improve border security and speed up processing of asylum claims.
Authorities are also fast-tracking work permits for claimants so they can work while they wait to see whether their claims are granted.