It is exam season at the University of Bristol. Midweek the campus is quiet. Students emerge periodically from exam halls chatting with their friends. The university Twitter feed is full of posts about support services and how to deal with exam stress. There's advice about deep breathing, offers of exam stress management workshops and free swimming and sports sessions.
The backdrop to this year's exam season, sadly as with the last, is mounting concern about student mental health. In the frantic three-week revision period running up to end-of-year exams, three Bristol university students have died suddenly. There have now been 10 student deaths in little over 18 months, a number of which have been confirmed as suicide.
"There's a real sense of anxiety and worry, which is entirely appropriate," said Prof Hugh Brady, Bristol University's vice-chancellor. "When you have three deaths in such quick succession – at any time of year, but especially just coming up to exams – it's a worrying time for the institution."
After more than a year in the media spotlight, the mood among students at the prestigious Russell Group university appears to be shifting from a sense of bewilderment to one of growing anger. Students who have felt helpless in the face of each reported death are now mobilising. About 400-500 people took part in a march in the city on Friday to demand changes to mental health services at the university.
Meanwhile, staff, who are doing their best to support students, feel "besieged" and "hurt" by criticism of university services. Some members of the pastoral team are on antidepressants themselves and have been in touch with Samaritans for support. One senior member of the team described how when a troubled student disappears, staff are terrified of going into their room for fear of what they will find. "It's very, very tense indeed," he said. Vulnerable students in his care have his personal phone number; last weekend he was up at 3.30am with a student who was having a panic attack.
Students are also increasingly irritated by the university's boasts about spending an additional £1m on wellbeing services, which they say pales into insignificance compared with the £300m being spent on the university's new Temple Quarter campus near the railway station, part of a massive expansion programme.
"We want him [Brady] to deal with the wellbeing of his current students before he brings in more and more students who may also be suffering," said Ed Southgate, 20, a second-year English student who has suffered from mental health problems. "The support available is good. The problem is there's not enough of it. He should make sure there are enough services for the people who are here before recruiting more students."
There are plenty of staff and students who believe the university is doing everything it can to improve mental health services and support troubled students. There will be new daily drop-in sessions from next week run with mental health charities and an additional 1,800 hours of counselling have been provided this term.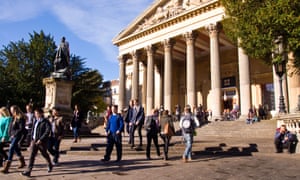 The music department at the University of Bristol. Photograph: Alamy
"We certainly have not got everything right," said one academic, "but each individual member of staff cares deeply about their students. Everybody is doing the best they can with the resources they have. Like everybody else, we are trying to grasp what's going on. As an institution, we are trying to do the best we can. But there is no silver bullet."
Ruth Day, 19, a first-year maths and philosophy student, was one of the organisers of Friday's march. She came to university with a diagnosed mental illness; she struggled during freshers' week and took herself to hospital. A few weeks later, she took an overdose.
"Being at home, I was in the care of my parents," she said. "Here, I was in a new city. I had no health support; I didn't know what to do.
"When you get to a Russell Group university, you are used to being top of your class. At school I was used to getting 90% for my work. At university 60% is brilliant. That disparity was something I really struggled with. At school, you are used to being a big fish. Here you are just one face in a sea of faces and it feels very isolating."
Under the university's fitness-to-study procedure, Day was deemed unfit to continue her studies. She was suspended and told to go home. "I was not allowed on university premises. I was a risk to myself and the university community."
The university stresses that the fitness-to-study procedure is rarely used, only in the most extreme circumstances for the protection of vulnerable students. Day, who got four A* grades at A-level, said the process made her feel worse. "I felt I had just completely messed up my entire future and my education because I was too sick to study," she said.
"When you are low and the university takes everything away from you, you feel lower than ever. I felt like they had seen student deaths happen before and they were scared I would be the next one. I felt they were worried about their reputation."
Brady, who trained in medicine, disputes this and said the policy was only ever used in the interests of a student's welfare. "The last thing on our minds would be institutional reputation," he said.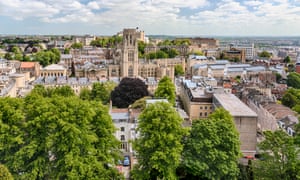 Bristol University seen from the Cabot Tower. Photograph: Olaf Protze/LightRocket via Getty Images
Day is now back at university after appearing before a fitness-to study panel, which she found intimidating. "It made me feel like I had done something wrong, like I was in a disciplinary hearing." Allowed to return, she felt on tenterhooks, terrified the university would suspend her again. "I felt I had to be the epitome of good health and good work ethic or I would be kicked out again."
Isaac Haigh, 22, a third-year chemistry student, said he was lucky to be able to access counselling quickly last summer because most students had left for the holidays; during term, students seeking help can face long waits.
The university said there was a six-week waiting list for counselling, which compares favourably with other universities, but some students say they waited far longer to get the help they need, which may be down to a triage system prioritising patients.
"You have to be so proactive to get help," said Haigh, who has delayed his studies for a year. "If you have a mental health issue, it's so debilitating. We need a more proactive system from the university, instead of them just offering us a hyperlink to a website. It's so impersonal."
Emily Sykes, 20, a second-year English student, who suffers from anxiety, said that when she sought help she was encouraged to take antidepressants. "I had less than a 10-minute assessment and they decided they wanted to give me pills. But I don't feel like it's the right thing for me."
On the University of Bristol pages of the Tab student news website, one student who suffered a mental health crisis said they had missed lectures for an entire term but did not hear from a single member of staff.
A parent of another student criticised what they described as "institutional indifference" as universities expand and pastoral care fails to keep up.
"Even for the most resilient young person, being a number and not a person can have a huge impact," they wrote. "Add into the mix social pressures, perhaps study worries or poor physical health, and the environment can quickly become toxic. Being largely invisible to the organisation that is invested with the job of helping you get a degree doesn't exactly help.
"The thrill of independence can quickly be replaced by loneliness and anxiety if there is a sense that no one really cares how you are getting on. Yes, students are adults, but they are also young people in transition and I think all universities should accept more responsibility and a greater duty of care for the general wellbeing of students at their institution."
Meanwhile, there is ongoing resistance to plans to update the university's pastoral care system in halls of residence, where live-in academic staff currently act as wardens and deputy wardens. The university wants to introduce a 24/7 service run by dedicated, trained staff; students say the current system provides a caring backdrop in halls and a familiar, friendly face that students can approach.
"Every student death is a tragedy," said Brady. "To have a number in quick succession just amplifies that. It's been very difficult as you can imagine. It's a very emotional and charged situation at the moment. We are trying to do everything we can to help staff, to help students. Of course, it's exam time which certainly amplifies things.
"We are very aware of the depth of feeling among students. Some students are very upset and concerned, and want to ensure that the correct level of resource is put in place. They are really worried about their mental health and that of their colleagues. It's something we are in dialogue with them about."
Brady said it was an issue that was affecting all universities in the UK and across the globe. "It's something that's transcending borders," he said. "Mental health is our priority and it's the priority of the sector. This is the challenge of our time."