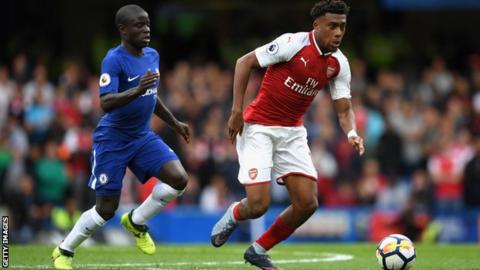 Alex Iwobi is the nephew of former Nigeria and Bolton player Jay-Jay OkochaArsene Wenger says Alex Iwobi will be fined if it is confirmed he was at a party 36 hours before Sunday's FA Cup loss at Nottingham Forest.
A video appearing to show the 21-year-old at the party in the early hours of Saturday morning was released on social media.
Iwobi played the full match as holders Arsenal lost the third-round tie.
Arsenal manager Wenger said is it "impossible" and "unacceptable" to go out within 48 hours of a game.
The footage, which was uploaded to Snapchat, appears to show the Nigerian dancing at a party at a house in central London at 02:37 GMT, and was published in The Sun newspaper.
But Wenger said Iwobi was not involved in either taking drugs or drinking alcohol.
"First of all we have to be cautious with everything that is coming out," Wenger added.
"When you read what is reported it is like he has taken drugs. He was not involved in that at all.
"He has been out at a birthday party and how long he has stayed? That is important. After, I will decide what happens."
Wenger added: "You know that sometimes you want to prepare 100% but it is not always a guarantee you will be at your best. But that is what is requested from a top-level professional."